Dr Gonzalez Anticancer Truthwarrior RIP : He Cured Himself Of Pancreatic Cancer, His Legacy WIll Live On Exposing The Lies.
Dr Nicholas Gonzales brilliant alternative medicine NYC cancer doctor who used pancreatic enzymes, coffee enemas, and other strategies. Who achieved many great results even with pancreatic cancer which is known as a difficult one . Dr Gonzales who embarrassed the medical mafia and cancer establishment showing up their lies, deceptions, about cancer, what is actually is, and how health and disease isn't what we have been brainwashed to believe growing up.
Dr Gonzales who provided hope and truth and a great service for many .
Dr Gonzales a fit healthy doctor in his 50 s who out if the blue strangely accidentally 'died' of a 'heart attack'. Nothing to see here folks.
Dr Gonzales ideas and legacy and strategies must be kept alive and spread and used by other alternative medicine practitioners. Oxygen and ozone therapies too. The Beard Trophoblast theory of cancer and the fact most cancer is actually a metabolic anaerobic disease NOT the result being driven by genes. We mustn't forget Dr Gonzales and others like him -Adam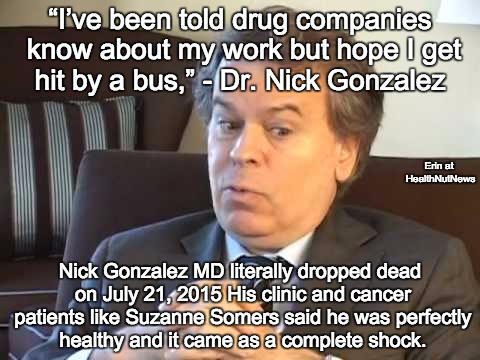 http://www.dr-gonzalez.com/index.htm
------------------
Suzanne Somers from threes company was a patient and has even written a book about her experience. Unfortunately over the last 2 years there have been more holistic drs killed. Including those who've exposed the Nagalase molecule in vaccines that suppresses the body's natural anti cancer molecule McGAF - Adam
---------------------
Holistic MD Nick Gonzalez Dies
My partner (a prominent Osteopath) had the honor of interviewing Dr. Nick Gonzalez several times before his death. I was fortunate enough to have met and known this brilliant man.
It brought me no joy to stumble upon the unintended series that I broke (as gently as possible) about all the holistic doctors who died within a matter of weeks. We knew some of them which made it all the more difficult to write about. I'd be writing one article as another doctor we knew died. It's tragic and painful and I truly hope no more die or are killed.